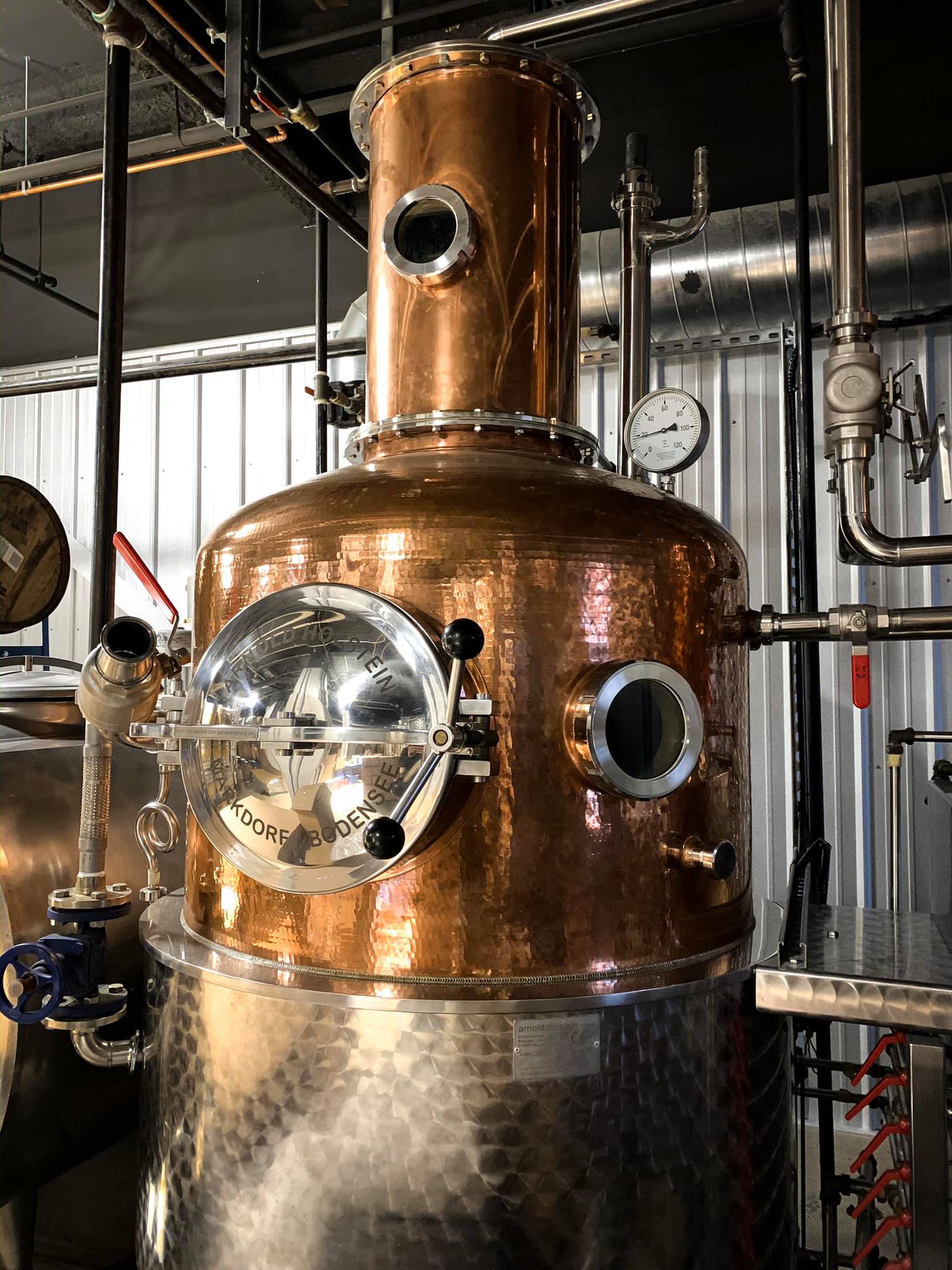 Halifax's "spirited" couple
Julie Shore and Arla Johnson came to Halifax with their North Carolinian roots and fell in love with Canada nine years ago. These ladies have brought an entrepreneurial spirit and their love of fine spirits to downtown Halifax.
Business and life partners, in 1997 Julie and Arla arrived in the Maritimes, first in PEI. Julie, a dental hygienist and Arla, a psychologist, decided to leave their jobs behind and build an Inn in eastern PEI. Still not quite satisfied, Julie started thinking about the business of her ancestors in North Carolina – distilling whiskey, apple brandy and bourbon. Julie's great, great, great, grandfather I.C. Shore, was a Master Distiller in North Carolina. With PEI potatoes everywhere, distilling potato vodka was their first distilling adventure!
Julie imagined becoming a Master Distiller. And that she did! Julie is a 5th generation distiller. She has been distilling since she was 15. In a professional context, Julie has been distilling in her own successful businesses for 15 years! Julie has completed a distilling course at Cornell University and yeast-making courses in Montreal and France. She has attended various educational opportunities in United States, Scotland, and Japan (to name a few). Julie has the knowledge, skills, and expertise in distilling and rum distilling! She is the only female Master Distiller in Canada to have an award-winning vodka!
Arla too has experienced distilling educational opportunities in Montreal, France, United States, Scotland and Japan. With her background and experience as a psychologist Arla advises on the financial aspects of production, supplies, labour, staff and all business matters.
Julie, and Arla shortly opened Prince Edward Distillery! Using local ingredients and making small batches Prince Edward Distillery started distilling potato vodka, gin and blueberry vodka became their mission!
Prince Edward Distillery became expeditiously firmly established. Halifax was soon calling their names. Julie and Arla saw an opportunity to launch a flagship craft distillery in downtown Halifax.
The long tradition of rum making in Nova Scotia, and their love of the character and atmosphere of downtown Halifax, the couple saw the opportunity they could not pass up. Halifax Distilling Co. opened in July 2016. Halifax Distilling Co. has quickly become a can't-miss venue on the Halifax waterfront.
Halifax Distilling Co. makes JD Shore rums! JD Shore rums are Maritime-made, in our very own (custom built) copper still blended with a fine Caribbean rum. Halifax Distilling Co. celebrates Nova Scotia's proud history in rum running.
As women, Julie and Arla are proud to carry on the tradition of handcrafted spirits. After all, women created the first still, beer, and single malt scotch. Halifax Distilling Co. not only crafts locally distilled rum; it offers a production tour of rum making, a tasting bar and a retail store! Visit Halifax Distilling Co, the home of JD Shore fine rums!
A little history: A Family Tradition - I.C. Shore
Distilling is in Julie's blood. In the 1890s and 1900's distilleries were common in North Carolina. The I.C. Shore & Co. distillery was in Yadkin County, North Carolina and owned by Julie's great, great, great, grandfather, Irvin Calvin Shore, known as 'I.C.' I.C. was a Master Distiller, making whiskey from corn or rye. His distillery was particularly known for the attractive ceramic jugs in which the whiskey was sold.
In 1903 the North Carolina legislature attempted to appease Prohibitionist forces by passing a law which required all distilleries to operate in incorporated towns. Some distilleries closed. However, I.C. and three other distillers decided to incorporate, and so the Town of Shore, NC was born. They assigned a post office, choose a mayor and alderman, and wrote bylaws and ordinances. After that, those attractive ceramic whiskey jugs for I.C. Shore & Co. all prominently displayed their origin as "Shore, N.C."
However, continued local opposition to whiskey making in the early 1900s threatened the distillery and led I.C. Shore & Co. to open a second distillery in Rocky Mount, NC. Finally, in 1909 NC adopted a statewide Prohibition and I.C. Shore & Co. moved operations to Petersburg VA. When statewide prohibition was adopted in Virginia in 1916, I.C. Shore moved his operations again, this time to Jacksonville FL. In 1911 the NC state assembly revoked the incorporation of the town of Shore.
The ceramic jugs are the only reminder of the Town of Shore that once lived because of whiskey. By 1920, with Prohibition in full swing, I.C. Shore had moved on to other professional pursuits. He died in 1953, at the age of 83.
Although the I.C. Shore & Co. company is no longer in operation, the tradition of small batch, fine crafted spirits has been continued by Irvin Calvin's descendant, Julie. The I.C. Shore line of fine spirits at the Halifax Distilling Co. is a tribute to that family tradition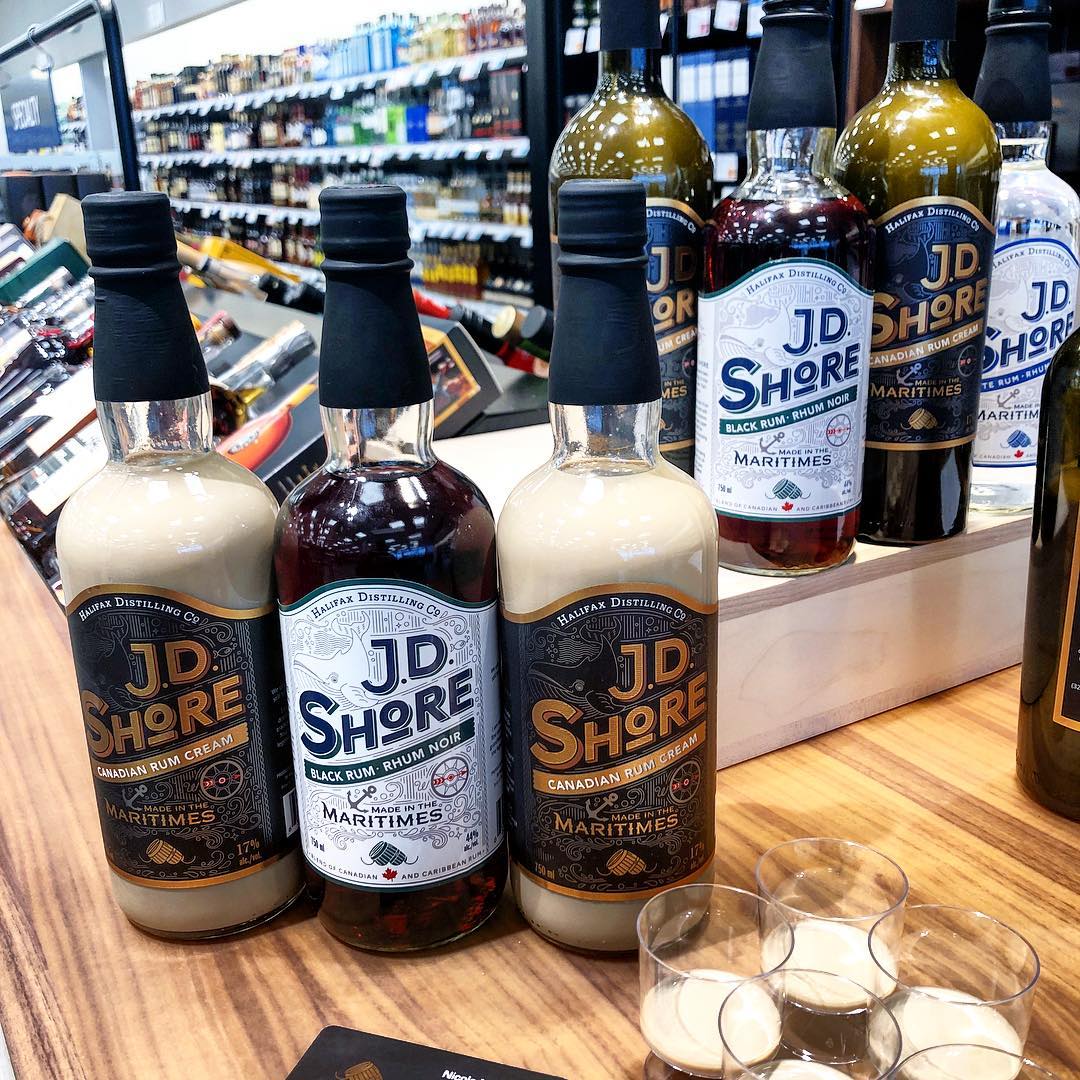 Growth and Development
Halifax Distilling Co. is always growing. And although the intrusion of the COVID 19 pandemic in March 2020 was a disability to the world, it provided necessary opportunities for new business.
In the spring of 2020, Halifax Distilling Co. worked collaboratively with two organizations, to produce hand sanitizer. Needless to say, the hand sanitizer was a high priority at the time! One of the organizations was a business who wanted to provide a sanitizer to their frontline staff; Halifax Distilling Co. wanted to provide sanitizer to charitable organizes in Halifax. Working together the first batch of sanitizer was accomplished. Distribution was done as agreed – one organization received their portion of the original batch of Happy Hands sanitizer and Halifax Distilling Co. received their portion. Halifax Distilling Co. distributed their portion of the Happy Hands sanitizer to local charities who work directly with food challenged and under privileged folks. Everyone in need was able to benefit and Halifax Distilling Co. had a new product! Since that time, Halifax Distilling Co. has been approached by other organizations and businesses, with requests to produce more sanitizer.
Halifax Distilling Co. continues to distill alcohol to make its JD Shore Rums. Also, during the pandemic, they continue distilling alcohol to be used specifically in producing its 'Happy Hands' sanitizer. This newest endeavour continues to expand to generate an adequate supply of sanitizer to essential workers and the broader community of Nova Scotia.